Size Chart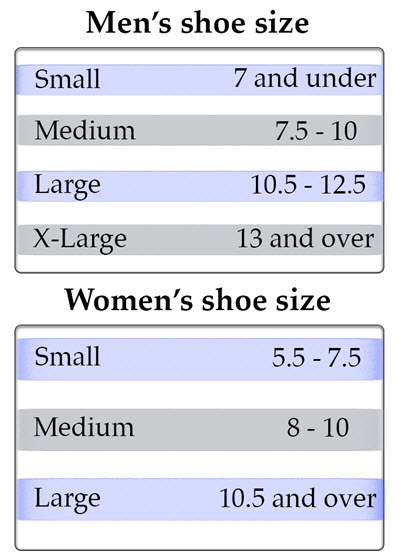 Mojo Sport - Copper Compression Socks -- Medium Support (15-20mmHg)
A compression sock with a soft feel of a traditional sock plus the added health benefits of copper!
Let's face it, most people don't want to deal with their feet. Heat and moisture builds up to create a breeding ground for bacteria and fungi to grow. With copper infused socks, you are protected from the millions of organisms and bacteria which can be harmful to us that live in or on our feet and shoes. The antimicrobial performance of Absolute Support Sport Socks with Copper has a distinct performance advantage in keeping you healthy and on your feet!
Materials: 68% Polyester, 21% Nylon, 8% Spandex, 3% Copper
Some of the advantages of these copper soled socks:

Designed for sports - Copper kills bacteria as the temperature in your foot rises due to activity!

Soft to the touch, Comfortable for both men and women.

Medical grade, graduated compression boosts blood circulation and reduces leg fatigue.

All-Natural - Does not contain any chemical products or residues.

Odor-Resistant - Neutralizes the two principle causes of odor.
Shipping Cost:
Calculated at Checkout
Fiber Content:
68% Polyester, 21% Nylon, 8% Spandex, 3% Copper
Compression Level:
Medium Support (15-20mmHg)
Discount
Gift wrapping:
Options are available
I use my socks every day. They keep the swelling down and feel very comfortable.
Best Cotton Compression Socks!
These socks fit well and keep my legs from swelling. They keep my feet cool and my feet do not perspire as much. Love the thick copper soles! The best compression socks I've found!
I was dubious about the healing powers others claim about copper but these sock feel great, don't smell after long wears / working out and a great price. Still don't know about health benefits of copper but these socks rock!
Very nice fit and comfy. Wish I knew about compression socks when I was still in the work force. I worked off of ladders quite a bit and these would have been fantastic.