Size Chart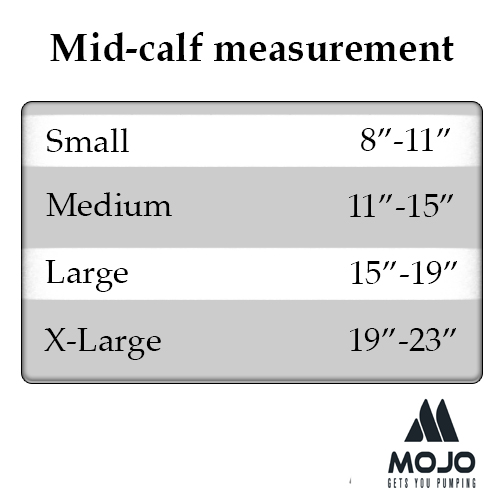 Mojo Compression No Foot Unisex Graduated Calf Medium Support 15-20mmhg Beige



Graduated Compression calf sleeve gently compresses your leg between your knee and ankle to improve poor circulation and combat venous insufficiency.
Wear with your favorite socks or alone.
The non-binding top and bottom allows this support stocking to remain securely in place.
No Foot Unisex Graduated Calf Medium Support 15-20mmhg
Effective treatment for painful cramping, poor circulation, strained muscle tissue or varicose veins.

Used by many sport professionals to facilitate

increased blood circulation

for faster flushing of lactates, improved oxygen circulation, and

reduced muscle vibration/fatigue

.

Our compression Calf Supports are designed to provide support to the legs and veins, assist with circulation, and minimize swelling.



Great for Sports / Workouts -- Or after for Recovery





Knitted calf support maintains beneficial warmth to your lower leg, enhancing circulation and diminishing cramping





Sold by the Pair



Graduated Support Level:

15-20mmhg
Yarn Content: 85%
Microfiber
Nylon, 15% spandex
Shipping Cost:
Calculated at Checkout
Mojo Compression Socks™ Calf Compression Running Sleeves - Medium Support (15-20mmHg) Beige
I really liked the tan color of these sleeves as they looked less orthopedic than the beige pictured. They are a perfect fit, support and comfort.
Great quality product. Washes very well and does not loose shape. My only suggestion is that they make a "petite" length. I am 5'1 and it is a bit too long from ankle to under my knee. It bunches a bit on one side causing a little extra pressure but not too bad. I bought to wear after a calf tear injury and it really helps.
I decided to try these instead of the sock type of compression stockings. I love them because they don't cramp my feet. I'm going to buy another pair.
This is a wonderful product, it does what it says and washes up nice. The only issue is I am short and so the stocking is a little long. I will measure from the ankle to the knee and order a couple more pairs. I am not sure if this was an option on the website but I should be. Thank you.
I had varicose vein surgery on both legs in 2012 and the surgeon recommended wear compression socks. always. since I am very physically active I often wear athletic clothing. I have many pairs of running compression socks and sleeves and they are great but I don't always want to look "sporty". I was very happy to find these sleeves and they are much less noticeable than the colourful athletic sleeves in my drawer. I also have an assortment of compression knee-high toeless stockings, which are widely available in a variety of compression levels, and thus different degrees of sheer. My request to make these a perfect 5-star product would be to offer this style in a more sheer pantyhose fabric, and various shades too, as these look very "medical grade" . I think a sheer compression sleeve would be fabulous and I would knock down your door to buy a pair - or two!
I bought one pair for my mother who had swelling in her ankles. These worked great to relieve the swelling and were easy for her to take on and off. I thought I would also try a pair even though I have no swelling. I just thought these might help my circulation, especially on days when I am more sedentary. I hardly remembered I had them on and felt I was doing something good for myself. Highly recommend.
Just What the Doctor Ordered
I hated the compression stockings I wore that covered my feet as I felt my toes were being strangled! These stockings have helped ENORMOUSLY in that regard. The fit is accurate and I actually don't even feel like I'm wearing anything on my legs. They have greatly reduced the swelling from my venous insufficiency. I would advise anyone needing leg support to give these a try.
Natalie neatly solved my problem (bought sports calf support , heavy compression), didn't work. She suggested the ones i got and i was able to return the original pair. Great service. Natalie knows her stuff. I shall order another pair soon...
I purchased these in the large in the 15-20 because one of my legs calf was 18" - only one leg ever had varicose veins or a blood clot. I ended up coming back and buying the XL size instead and they fit better. So my advice is to size up if you are on the border of sizes.
Best place to get your stockings!
Fine selection of stockings. Takes a while to settle on a particular brand and fit, comfort. Moshe appreciates the business, and he knows what ls what in stockings with big selection.