Size Chart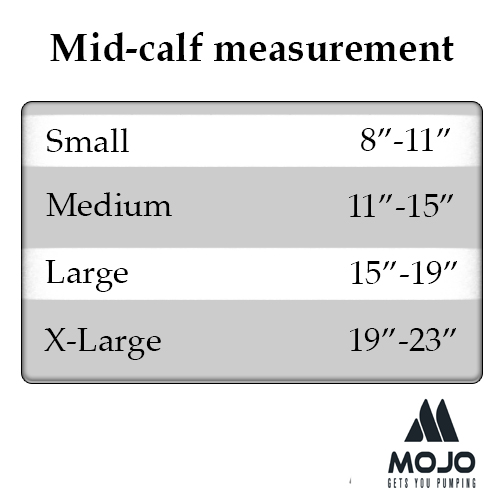 Mojo Compression No Foot Unisex Graduated Calf Firm Support 20-30mmhg Black

• No Foot
• Opaque Material
• Knee-Hi
• Calf Sleeve
No Foot Unisex Graduated Calf Firm Support 20-30mmhg
Graduated Compression calf sleeve gently compresses your leg between your knee and ankle to improve poor circulation and combat venous insufficiency.
Wear with your favorite socks or alone.
The non-binding top and bottom allows this support stocking to remain securely in place.

Effective treatment for painful cramping, poor circulation, strained muscle tissue or varicose veins.

Used by many sport professionals to facilitate increased blood circulationfor faster flushing of lactates, improved oxygen circulation, and reduced muscle vibration/fatigue.

Our compression Calf Supports are designed to provide support to the legs and veins, assist with circulation, and minimize swelling.

Great for Sports / Workouts -- Or after for Recovery

Knitted calf support maintains beneficial warmth to your lower leg, enhancing circulation and diminishing cramping

Sold by the Pair
Price is PER PAIR
Shipping Cost:
Calculated at Checkout
I have just purchased my 4th compression sleeve. After 4 knee surgeries I needed something I could wear most of the day to keep my legs supported. They wear well and are very comfortable but tend to run on the small side.I am 5'7 and weigh 140 lbs and am using a XXL
I was looking for plain compression sleeve that had a smooth knit after my varicose vein surgery. I'm 5'8" and have a problem with my Zensah sleeves running slightly short, so I was pleasantly surprised when I saw these ran slightly long. I actually have to play with them a little bit to get them to line up just right, but they're worth it if it means I don't have impressions all over my lower legs after taking them off. The compression level is as stated.