Size Chart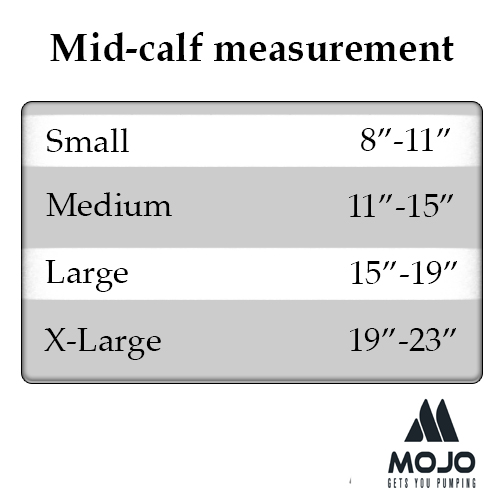 MoJo Compression No Foot Unisex Graduated Calf Firm Support 30-40mmhg Beige

No Foot Unisex Graduated Calf X-Firm Support 30-40mmhg
Graduated Compression calf sleeve gently compresses your leg between your knee and ankle to improve poor circulation and combat venous insufficiency.
Wear with your favorite socks or alone.
The non-binding top and bottom allows this support stocking to remain securely in place.

Effective treatment for painful cramping, poor circulation, strained muscle tissue or varicose veins.

Used by many sport professionals to facilitate increased blood circulation for faster flushing of lactates, improved oxygen circulation, and reduced muscle vibration/fatigue.

Our compression Calf Supports are designed to provide support to the legs and veins, assist with circulation, and minimize swelling.

Great for Sports / Workouts -- Or after for Recovery

Knitted calf support maintains beneficial warmth to your lower leg, enhancing circulation and diminishing cramping

Sold by the Pair

Price is PER PAIR
Graduated Support Level:

30-40mmhg
Yarn Content: 85%
Microfiber
Nylon, 15% spandex
Shipping Cost:
Free Shipping
X-firm mojo support calf sleeves
Although they qualify is firm as stated,the sizing is not accurate. They are much tighter and therefore are not wearable. Since I have worn this compression level in stockings for several years this was a disappointment.
wonderful in hot weather!
Wear support things almost always. Had first varicose veins stripped when 22 yrs! Have all veins treated with sclerotherapy and wear support daily. Legs feel great at 71 yrs and vein free. Thank you for your products
Very good.