Size Chart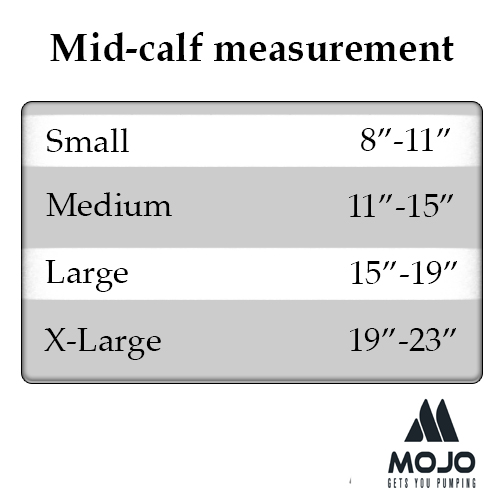 Mojo Sport - Compression Calf Sleeves -- Firm Support (20-30mmHg)
Mojo Compression Calf Sleeves provide ankle to-calf graduated compression, best for athletes who do not wish to change from their current running or riding compression socks - but still want the protection and improvement a graduated compression garment offers. Used by professional triathletes around the world, these are scientifically proven - to maximize power, boost energy, and speed recovery time.

Use the calf compression sleeve to improve endurance by boosting blood circulation and delivery of oxygen to your muscles. You'll run and ride with less effort, increased speed, decreased recovery time, reduced fatigue and optimized performance.

Mojo's radical designs and colors keep you stylish - on the road - at the gym - or recovering at home
Price is per pair

This is not a one size fits all sleeve -- Order by mid-calf measurement

Latex Free
Shipping Cost:
Calculated at Checkout
Mojo Compression Socks™ Elite Graduated Compression Calf Sleeves - Pink, Size large
These sleeves ran extremely small and were actually painful to get off and on. My calf measurement is just under 15 inches, but after reading other reviews I ordered Large instead of Medium. However, the tan sleeves I ordered worked perfectly.
Nice but too tight. Followed the sizing chart, but I think Mojo products run a little small. Shoe size doesn't necessarily connect with calf circumference :(