Size Chart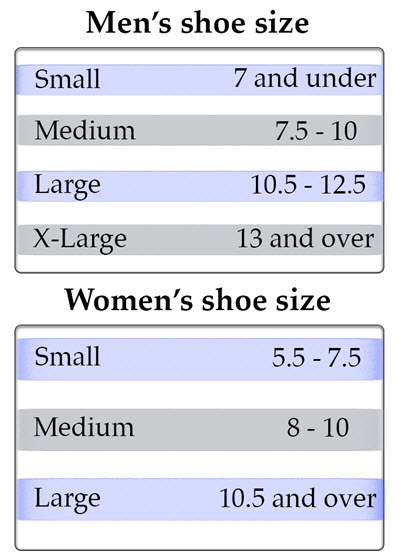 Mojo Recovery & Performance Sports Compression Socks -- Firm Support (20-30mmHg)
Mid-level cushioned sock - thinner than the CoolMax style but thicker than the power style.
Stretch - tighter fit compared to CoolMaxstyle but easier than the power style
Compression socks for athletic performance and recovery
Graduated compression of 20- 30mmHg boosts circulation
Zone construction for selective cushioning and compression
Engineered to follow contours of the foot
Compression bands supports Achilles tendons
Flat seams lessen pressure marks and risk of blisters
Large toe box for storing extras
Reinforced heel and toe
Moisture-wicking and latex-free fabric
Features extra cushioning and more warmth for colder seasons
Provides additional support of the Achilles tendon and shins
Provides neoropathic support on the foot
Four flex zones for enhanced mobility and donning ease
Reinforced Toe & Heel
Unisex
Sold by the pair
Latex Free
It's easy to forget that socks are an essential and vital part of comfort and your workout. Our Radical designs and colors keeps you stylish - on the road - at the gym - or recovering at home. Mojo Recovery Compression Socks utilizes multiple zones to provide extra cushioning + moisture wicking and are specifically engineered, not only for high performance, but also for the respective feet they go on. These Socks are specifically engineered to match the specific contours of each foot.
Selective cushioning allows for padding and compression to be strategically placed in key areas, providing essential shock absorption. Better fitting socks can cut down on blisters and other irritations caused when your foot slides around within your sneaker. Used by professional triathletes around the world, Mojo Graduated Compression socks are scientifically proven - to maximize power, boost energy, and speed recovery time.
These socks do make a difference
Mojo Compression Socks maximize muscle oxygenation and boost energy with unparalleled, scientifically optimized, compression technology for all-day benefits.
These feature 20-30mmHg graduated compression that is strongest at the ankle and gradually diminishes as it goes up the leg - not just providing a Squeezing effect like most other available compression products. The graduated compression helps fight the force of gravity and circulate blood back to the heart and lungs more efficiently. When blood is properly circulated, it provides much-needed oxygen and nutrients to tired muscles that have been, or are being, deprived during a workout
More energy, an improved metabolization of lactic acid, and faster recovery so you can return to training quicker than ever.
Founded and based in Brooklyn, New York - our philosophy is to create products which will advance Sport Performance & Recovery. Mojo design & materials are developed by Mo Blinder who has been developing, manufacturing and distributing in the medical compression industry for 15+ years. Mo is a weekend Cyclist and a daily Swimmer who wanted to create cutting edge Performance and Recovery garments with funky, sport driven designs, materials and patterns. Working closely with professional athletes and designers Mo has tailored the Mojo sock into something that you will want to wear.
Shipping Cost:
Calculated at Checkout
Bulk Discounts:
Buy 3 - 5 and get 5% off
Buy 6 - 11 and get 10% off
Buy 12 or above and get $15.00 off
They fit well and I like them better than most compression socks thanks making this product some time they give deals buying 3 pairs that's helps a lot I really appreciate
They fit well and I like them better than most compression socks I get.
Washed twice and could not wear again. The top has shrunken two full inches. My toes don't fit in the foot anymore. Totally dissatisfied.
While i was an inpatient at the local hospital, I developed bi-lateral blood clots in my lungs. After a lengthy stay to rid the clots, I was prescribed Coumadin, a blood thinner. I was also introduced to TEDS stockings. They came "highly suggested" that I wear those everyday and take the Coumadin everyday to prevent anymore blood clots. Those knee high stockings only came in three colors, black, white and neutral nude. I could only get the TEDS from my doctors office. Boy, they were expensive at $60 dollars a pair and they only had white. They also wore out too fast at only 3 months. I thought that White looked too institutionalized. I went on Amazon.com and found the Mojo store. Here they had compression knee high socks that were not only tighter than I was used to but in different colors and styles with and without prints! I was overjoyed to find these. My first order was for 4 pair of socks. After wearing them every day I found they begin to stretch, so 6 months later I ordered 7 more pair and passed the old ones on. Every 8 to 10 months it is time for a new order. I go between Amazons Mojo store and the Mojo website as there are sales on most of the socks i order. These are the greatest compression knee high socks I've ever worn. Mojo as a company has grown emencely since my first order. Mojo knee high socks are the only socks that I am loyal to. All others may have cool prints such as flames, argyle, skulls or different characters for the holidays but Mojos last the longest! Mojo will always be my #1 choice in Knee high compression socks!
Mojo Recovery & Performance
I was very disappointed that these were SO tight. They really should be sized by calf measurement. There is no give to them at all making them extremely difficult to get on; and I could only get them to partially cover my calf. I would not order these particular stockings again.
Absolutely love these compression socks...make my legs feel so alive...I teach fitness with them on and for recovery...thank you for a great product
This sock is working very well for my situation. I have been approved for vein stripping because my varicose condition is so advanced, I also have a chronic ulcer so I need the compression. Only short time wearing these, I am seeing healing in the ulcer. Feel great on all day, I work on my feet 12+ hours, I am surprised that my legs feel so nice and cool, NO sweating. I LOVE that the toe area is not constricting, this can be very uncomfortable with sheer, prescription hose that I've had. I wear size 8Wide shoe and bought the medium and very happy with the foot room! Pretty easy to get on, also. I also have the footless thigh high recovery pair and the compression is similar which is great. I will be trying other options in Mojo socks because I am super-pleased so far.
I'm having varicose veins treated
I think these were available in longs
I love the product