Size Chart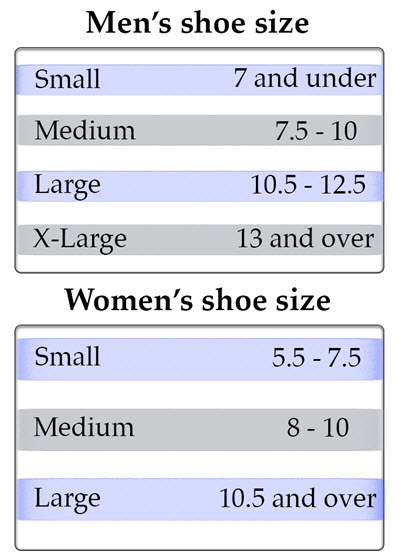 Mojo Dress - Men's Opaque Compression Socks -- Firm Support (20-30mmHg) Navy

Thinner dress socks with reinforced heel and Closed Toe, reciprocated heel pocket and a large toe box for a comfortable fit. Non-constricting comfort top offers great stay up power.
Ribbed material ensures these look and feel like "regular" dress socks.
Featuring:
Closed Toe
Dress Sock Look
Reinforced Toe/Heel
Opaque Material
Knee-High

Non restrictive top band to prevent slipping and snagging.

Reciprocated Heel pocket and large toe box for comfortable fit

Great For Leg Fatigue, Swelling of the ankles and discomfort of varicose veins
Made in the USA
All products are designed and engineered with your comfort in mind.
Delivers physician-prescribed elastic compression therapy guaranteed.
Shipping Cost:
Calculated at Checkout
Quality firm socks feel as good as they look. They get the job done.
Excellent socks, great company
The socks are comfortable, fit well, and provide good compression. They hold up well after numerous washings. They arrived promptly with no problems.
When my physician suggested compression hose, I went to a well-known pharmacy. The only hose they stocked were women's hose, at a cost of around $80 per pair. I searched the net and discovered Discount Surgical and these hose FOR MEN! I have been so pleased! They fit great, look like a great pair of men's socks, and are only $13 per pair! Better still, they really hold up to many washings and hard wear! I highly recommend these socks!
These socks are wonderful they never slip down on your leg. They are very comfortable to wear, they even do well after washing them. I would highly recommend these socks.
Their compression stockings!
I've never had to use compression stockings before. If they are recommended by medical professionals then for sure get them. If you have to stand on your feet or sit behind a desk all day I recommend them. Since I've been using them my legs feel less tired and I can see the veins in my legs since the edema has gone down. I don't know if the blood circulation and oxygenating has improved but I assume it has. I strongly endorse compression stockings or you can just keep your legs elevated above your head all day, your choice! One of the drawbacks of compression stockings is they are a pain in the but to get on. Watch some youtube videos, as I did, and get the hang of how to do it! Then after a while you'll develop your own techniques. Also if your right on the borderline of the size opt for the larger or try one of each, as I did. My first order was on the borderline of medium and large, I got one of each. If this is your first time don't forget the donning gloves, I got Jobst and I'm really happy I did! Watch several videos that will help too. By the way, Discount Surgical has great prices, a large selection, the quality is very good, they ship fast. I took my chances with them because I'm new to this but I did my due diligence on line and shopped around. Good luck!
If you are experiencing swelling in your feet, contact and buy Discount Surgical stockings
One of the better decision I ever made. My experience has been wonderful; beginning with my contact with the professionals at Discount Surgical.
Product was as described. They fit. They were sent to the proper address. The equivalent here is by a Doctor's Prescription and cost CA$90 - CA$120 per pair! And that's in Canadian Pesos! What's not to like? BTW - I've passed the link to your site on to several people in the medical business locally. They were grateful.
My kidney doctor said to buy compession socks to help ankle swelling. They work fine and does a a good job in keeping swelling down
A must have in my line of work!
In the hair industry there is quite a bit of standing and mostly stationary. My legs would be so swollen at the end of the day if I didn't wear these stockings. I recommend pulling them down onto your leg laying on your bed with your foot above you, a lot less strain on your back. You can't kill these socks! They are by far the best ones I've tried. I am very happy with my purchase.
I always had pain with other compression socks, but these fit so well I sometimes forgot I had them on. I fell asleep without taking them off at night, and had no trouble with pain. The only problem was they were slightly long in the foot.