Size Chart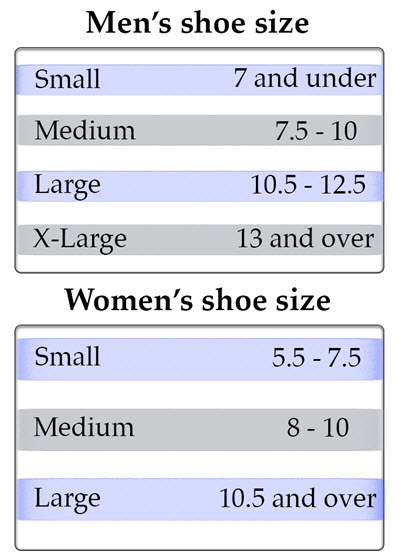 Mojo Basics - Unisex Microfiber Compression Socks -- Medium Support (15-20mmHg) Black
Microfiber Nylon technology offering a smooth opaque material and comfortable feel.
Opaque resemble high fashion hosiery yet feature firm graduated compression technology - very soft for the most comfortable stocking in its compression class. The "easy-on", "easy-off" construction is lightweight and highly effective in helping restore leg health. Long-lasting medical-grade support, fashionable look and super soft texture appeals to today's active, fashion conscious woman - excellent for business or casual wear.

Clinically proven to help relieve pain of tired, aching legs, mild varicose veins and leg swelling, effective for post schlerotherapy treatment.

Features:
Two way stretch design provides extra comfort
Microfiber nylon provides easier application, and great comfort while wearing
Reinforced toe heel
Advanced microfiber-soft yarns and knit-in heel and toe offer comfort, better fit and durability
Fashionably smooth and soft opaque fabric provides for year-round wear and covers blemishes
Soft, stay-up top for all-day comfort
Minor varicosities
Minor ankle, leg and foot swelling
Shipping Cost:
Calculated at Checkout
mojosock microfiber, compression socks, 15-20mm
I like the open toe feature. It is a little long for my skinny legs so I have to fold it over on the top. I gives good support.
Microfiber Unisex Compression Knee Hi - Medium Support - Open & Closed Toe
The stockings both fit and wear well. Prices are reasonable and free shipping is offered when more than two pairs of stockings are purchased. Shipping time is excellent with your purchase is delivered to you usually within a week.
Reasonably good everyday Comprssion hose
I purchased the open toe 15-20 compression. I like them for everyday use. They are easy to put on and take off, the tops stay in place and the do not pinch my toes. The only negative I have found is that they tend to "run" easily if you are not careful putting them on. Any "snag" on a finger or toe nail will create an instant run. I am not sure how much this effect compression, but it must have some impact. Overall, good hose for the price.
These are better than the Medi Comfort brand and far less expensive!
Very comfortable Knee Hi stockings
Comfortable stockings, like the nice soft feel. I am able to wear them longer. They stay up quite well without binding.
Very pleased will all of my purchases from Discount Surgical. I am especially pleased with the closed toe compression knee his. Tried the open toe first, which are great too. The closed toe is easier with winter fashions.
Very happy with the feel & comfort of these compression socks.
I was not happy when I was told to wear these compression socks. I ordered a pr. From another company & they sent me the wrong size as well as the wrong compression. I decided to order once more when I saw your company , I'm glad I did because they are comfortable & make my legs feel better.
Humana will not pay for vein surgery until I use compression hose for at least 3 months. I have alternated these with a name brand for more than 2 weeks, and these fit and feel better and appear to be made better. I would buy again.
I purchased three pair of the Microfiber Opaque Knee High Open toe and closed heel medium support a few weeks ago. I am very pleased...they fit and allow my toes to breath which is important in this hot Arizona summer. I would recommend them to anyone needing a support stocking that allows the foot to breath. The price was right and they fit remarkably well. What's not to like? Very happy and I will be purchasing again.
I like how these feel, very comfortable. I have one leg that has a well developed calf and my other is not as developed, and the size I bought is a tad tight at the top, however they fit wonderfully on my other leg, I got the largest size so I can not get a bigger set for my overdeveloped leg. I would say that the sizes are accurate because of my 2 legs, I was on 2 sizes, so I went with a bigger size. shipping was quick. These are not as heavy as another pair I have but I think that may be me, because I am unsure exactly what I need so I went with 2 different support thicknesses. I ordered the open toe and nowhere does it say on the order that they are but I did receive the open toe ones. After having a few days of 90 degree weather, I can say that they were not hot and I did not even realize that I was wearing them. Overall a good deal and worth buying.