Size Chart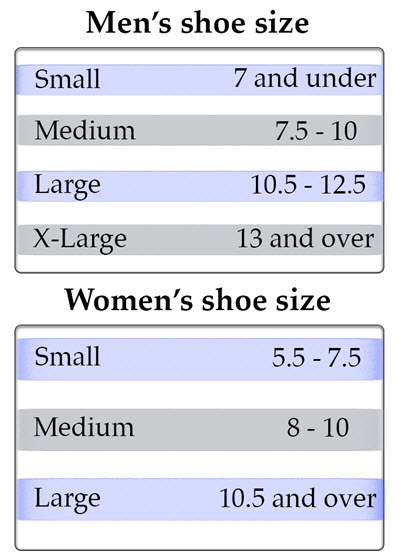 Mojo Dress - Unisex Opaque & Sheer Compression Socks - Firm Compression (20-30mmHg) Natural
Our dress compression sock line combines medical therapy, with a fashionably sheer look and feel, yet still has an opaque finish for hiding power
at a fraction of the price!

Using advanced knitting techniques we manufacture these to look and feel great on your legs and feet and their unique construction makes them easier to don and remove.
Features:
Soft, Stay up top band for all day comfort


Knee High style features a soft top band that keeps the stocking comfortably in place all day long.

Semi transparent these still provide great "hiding" power, on your legs.

Looks Great for work or dress

Reinforced Toe & Heel

20-30mmHg Therapeutic graduated compression
Order with confidence - 100% Guaranteed Satisfaction with our 30 day return policy!
Shipping Cost:
Calculated at Checkout
Excellente qualité, Comparé aux bas coûteux venant d'Allemagne, ils sont quand même de bonne qualité etsont 100 fois moins dispendieux., surtout avec les rabais.
way to small in the ankle, could not get them on.
excellent merchandise, outstanding service and fast shipment.
I was surprise how comfortable these stocking turned out to be. I thought they would be terrible heavy weight and uncomfortable. They are light weight and actually fit very well. Most stocking have been way to big in the feet area but these aren't to bad.. I wear a size 4 youth in shoes and it's very hard to find a comfortable fit. I would highly recommend these stockings who have to now wear support stocking.
I ordered these along with the usual Sigvaris compression stockings that I use. These were advertised as being good for less cost. I would not order them again, and in fact, have one pair still unopened and plan to return them along with the pair I tried on. The fabric is stiff and lacks the soft feel of the Sigvaris brand. They are also more difficult to get on, and have a more stiff feel, with less give. I would not recommend these.
I have had issues with varicose veins in my lower legs below the knee since becoming pregnant. I bought these to alleviate some of the pressure, and they definitely work. They are difficult to pull on, but they have to be tight in order to work. You can wear these with socks, but your feet will probably get hot. To clean, you can either hand wash or put in the washing machine and hang dry. I'm pleased with this purchase and hope they will fend off any more vein issues for the rest of the pregnancy.
best stockings for the money
I have tried several brands and I find these are the best for all occasions. I must wear them everyday and they look and feel great.
I was looking for a compression sock that I could wear with my capris to fly, that wouldn't be noticeable, but give me the support I needed while strapped into my seat for 3 hplus hours. These were the most comfortable compression socks I have ever worn. The fit was perfect for me, I am only 5' now, and they stopped right at my knee. I will be purchasing more of these with the colder weather coming.
Thigh hi compression stocking
I am tall and the stockings fit me well. Could use with a softer, stretcher top of stocking. My upper thighs are thin. I would buy them again
The stocking socks are great. The service is even better. I was informed along the way of where my purchase was at and they arrived earlier than I had anticipated. This is the second time I've ordered here and will continue to do so.