Size Chart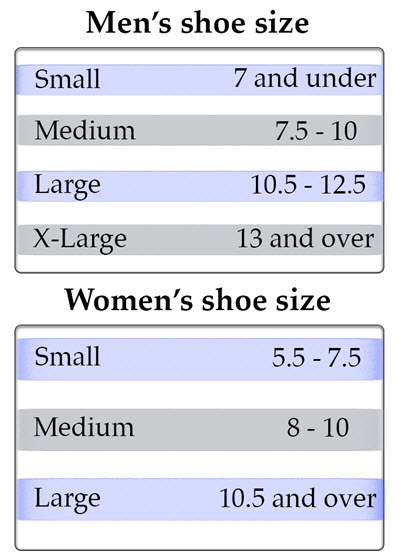 Mojo Elite - Endurance Compression Socks With Extra Foot Padding -- Firm Support (20-30mmHg)
Sports sock feature many new radical designs - with elite athletes in mind!

* Extra padding in the foot area for cushioning
* Flat seams - particular in the toe area - prevent blisters and pressure marks
* Additional Support of the Achilles tendon with a special compression band protects and prevents irritable tendons.
* Additional support on the Shin
* Ventilation Panel below the tibia allows the foot to breath better
* A three-dimensional manufacturing process allow our socks to adjust to the anatomy of your foot for a perfect fit
* Padded zones in the foot and Achilles heel ensure optimum pressure distribution
* 4 Flex zones for enhanced mobility and donning ease


In addition to their compression properties the new Elite socks wont slip or form creases on the leg.
Utilizing superb materials and a specially designed 2 way stretch - our new Elite model goes on "easier" and does not feel as tight on the leg and foot - while still providing a medical grade 20-30mmHg graduated compression for recovery and performance .
Other Benefits:
* Enhanced Blood Circulation
* Quicker Recovery
* Reduced Blister Formation
* Improved Metabolisation of Lactic Acid
Features:
• Reinforced Toe/Heel
• Extra Cushioning
• Moisture Wicking
Shipping Cost:
Calculated at Checkout
These are the best socks - and I have bought almost all of the Mojo varieties. So now, lets add some options.... like COLORS! How about white, blue, green, etc!! Thanks
socks easy to put on and great to wear
after I bought a few pairs of these great socks could not wait to buy some more at a great price These socks fit well ,very comfortable to wear for long hours and the foot and ankle padding is just awesome. I only can recommend these socks plus these socks stay in place fantastic !!!!
socks easy to put on and great to wear
I should have taken advantage of this offer these compression socks are the best by far very easy to put on stay in place the whole time and the foot padding just fantastic I stay on my feet for a long period of time during the day and can only recommend these socks you will not regret it Like I said should have doubled up on this deal !!!!
Best sock I've tried
For 21 years, I've been a surgery tech who stands for 14+ hrs a day plus on-call shifts. I've tried numerous compression socks over the years and these are my absolute favorite. I love the extra padding in these. It's just a little padding, not too bulky. These socks and my dansko clogs have saved my life at work ... and after work because I wear these socks on the weekends too!
I haven't bought Mojo brand compression socks in a long time because in the past I have not been satisfied with them. I used to have a problem with them "running" (almost like hose do). I bought these to try them again since they were on sale and I must say Mojo has improved! No runs! On top of that, they have lots of toe room (which is very uncommon in most compression socks) and the inner part of the sock is very soft which makes them more comfortable as well.
Great fit, comfortable, easy to get on and off for a compression sock.
Compression good, well made, but band at top is tighter than the rest of the sock and restricts blood flow for me. Either a wider band or a band closer to the tightness of the rest of the sock would be more comfortable. As it is, I can't wear these,
My husband was happy with the socks.
He liked the socks as well as any of the compression socks. They are difficult to put on as all of the compression socks are. Other than that he liked them.
great socks
MOJO to restrictive around the top.
The socks felt good except for being to tight around the top.