Size Chart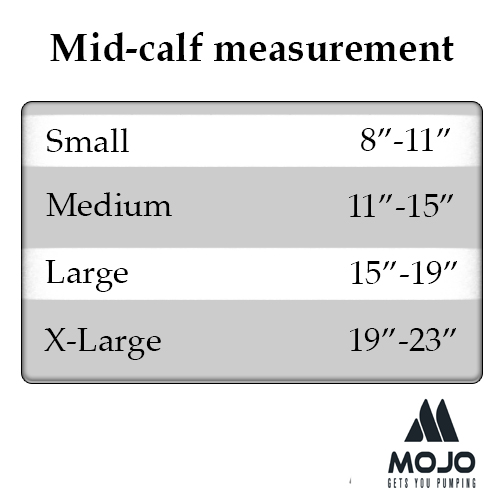 Mojo Compression Calf Sleeves featuring 20-30mmHg graduated, medical grade compression.
Mojo Compression Calf Sleeves provide ankle to-calf graduated compression, best for athletes who do not wish to change from their current running or riding compression socks - but still want the protection and improvement a graduated compression garment offers. Used by professional triathletes around the world, these are scientifically proven - to maximize power, boost energy, and speed recovery time.

Use the calf compression sleeve to improve endurance by boosting blood circulation and delivery of oxygen to your muscles. You'll run and ride with less effort, increased speed, decreased recovery time, reduced fatigue and optimized performance.

Mojo's radical designs and colors keep you stylish - on the road - at the gym - or recovering at home
Price is per pair

This is not a one size fits all sleeve -- Order by mid-calf measurement

Latex Free
Shipping Cost:
Calculated at Checkout
Compression Level:
Firm Support (20-30 mmHg)
Fiber Content:
70% Nylon 30% Lycra Spandex
Gift wrapping:
Options are available
Mojo compression sleeves XL
These came highly recommended so we ordered size XL. My husband's calf size is 19.5 inches. They run small. Wish they offered a xxl.
Purchased these for my husband's legs which are very red from poor circulation. He likes them because he can wear these to protect his legs and also wear his favorite socks. Highly recommend!
Good fit, quality product
These sleeves are the perfect size for me. (I ordered a Small.) I am 5'1", 120 pounds, with muscular calves, and the Mojo sleeves fit me better than any other I've tried. I will wear them in summer when I want bare feet. But with my CVI condition, I prefer the support from the footed Mojo model A603. They give me the best compression for circulation in my legs. All the Mojo products I have ordered are excellent quality, wash and wear well, and last a long time. Good product.
These socks fit well and help avoid leg pain when standing or walking