Size Chart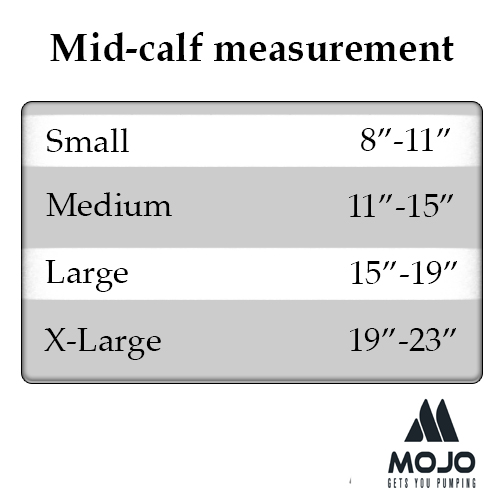 Mojo Sport -- Unisex Compression Calf Sleeves - Firm Support (20-30mmHG)
No Foot
Moisture Wicking
Latex Free
75% Nylon 25% Spandex
Price is per pair
Sports compression sleeves provide ankle to- calf graduated compression.Best for athletes who do not wish to change from their current running or riding socks - but still want the protection and improvement a graduated compression garment offers. Help with shin splints - leg cramping- muscle soreness with moisture wicking Light Weight 2 way stretch material.
Use the Compression Sleeve in conjunction with your favorite socks to improve endurance by boosting blood circulation and delivery of oxygen to your muscles - Comfortable 2 inch top band keeps sleeve in place
Super High Quality, Medical grade synthetic materials - 75% nylon and 25% spandex - Sold per pair - Latex Free -
Improved Circulation and Faster Muscle Recovery: Strongest at ankle gradually decreasing up the leg we create
This is not a one size fits all sleeve please see our size chart.
Mojo Compression Sleeves feature 20-30mmHg graduated compression. Strongest at the ankle gradually decreasing up the leg. Used by professional triathletes around the world, these are scientifically proven - to maximize power, boost energy, and speed recovery time.


Shipping Cost:
Calculated at Checkout
Brand:
Mojo Compression
Compression Level:
Firm Support (20-30 mmHg)
Fiber Content:
70% Nylon 30% Lycra Spandex
Gift wrapping:
Options are available
Bought an XL size after measuring my mid calf, and when I tried to put them on the top of the sleeve would not go past mid calf.
Great product. I just ordered the 20-30 unisex calf sleeve for the first time. Comparing to the regular for female with same compression, the are little longer, which is fine. The only issue I have with them is that the upper elastic opening (knee side) is too tight! I never had that problem with the other kind.
I don't, but I feel like I could run through brick walls with my mojos on!
Between running, coaching, cycling and personal training, I am on my feet A LOT! Mojo compression sleeves help me and my athletes recover and be ready for that next workout!
Love it. Great support during my cycle class. Will use it when I lift weights as well. I did not experience any leg cramping during my hour long class! Definitely would recommend.
I'm a cardiac nurse on my feet all day and these are great support for varicose veins. The socks are just as they appear in the pictures. I'm 5' tall and 100 lbs. I ordered the small and they are a bit too snug so I'm hoping they stretch a bit as I wear them. Otherwise, they colors are happy and fun when they occasionally show at the ankle. A good purchase.
Pain in calves decreased markedly when wearing these sleeves.
Great fit, good quality and fashionable!
I have muscular calves - purchased the correct size per the chart... They run small - there is not a "stretch to them" - just a knit sock texture - like it was knit with less yarn for the size to create the compression simulation. The MOJO logo is knit into the stocking and have "hanging yarns" on the inside of the sleeve...leaving an imprint of the texture upon taking them off. I love the concept - just not this product.
Had a DVT and must wear a compression sock. I find that the compression on these to be strong for the support I require but allows my feet to be bare as I love to be able to wiggle my toes.