Size Chart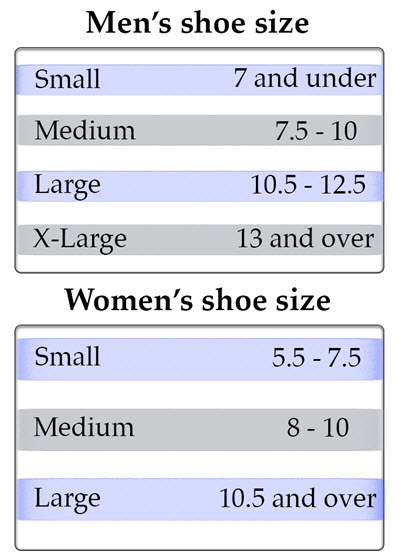 Mojo Sport - Silver Soled Compression Socks -- Firm Support (20-30mmHg)
This model goes on and off easier than most of our other products due to the highly stretchable material used.
X-Static, the silver fiber, is the brand name of silver used in our new Silver Compression Sport Socks. X-Static has a layer of silver permanently bonded to the surface of the fiber. This fiber is then sewn into the lining of our socks.
Benefits inherent in pure silver:
Designed for Sports - Silver kills bacteria and fungi faster as the temperature in your foot rises due to activity.
Comfortable and soft textures for both male and female.
Boost blood circulation and reduce leg fatigue.
All-Natural - Safe, non-toxic, does not contain any chemical product or residues of pesticides.
Odor-Resistant - Neutralizes ammonia and denatured proteins, two principle causes of odor.
Thermos-Dynamic - Fresh in summer and warm in winter for its thermal conductivity, the reflecting power and the radiating power which favor the passage of humidity.
Anti-microbial - Inhibits the growth of bacterial odors and eliminates fungi responsible for the Athlete's foot. Eliminates 99.9% of bacteria on the material in less than one hour of exposure.
Anti-static & Conductivity - With its conductive properties (silver is the most conductive metal), the silver fiber system has many health benefits.
Safe and Natural: X-Static is made with pure silver, a naturally occurring element. There are no chemicals or fear of toxicity to the consumer.
Permanent: The silver becomes a physical part of the fiber. The performance of the product will not diminish over time.
Shipping Cost:
Calculated at Checkout
Mojo Sport Silver Soled sock
Excellent quality. My problem is to get the support I need on my small calves and yet not be too small for my size 10 foot. I bought size Med.
Of all the compression socks I've tried so far, these silver-soled, anti-microbial ones are the most comfortable. In fact, I'm going to need another pair or two!
a506 Mojo Sport Silver Soled Compression socks
I have been using this product for several years, nothing else compares to the ease of putting the socks on and the longevity of the socks. I will keep purchasing them for as long as they are being offered.
a506 Mojo Sport Silver Soled Compression socks
I have been using these compression socks for several years, I have not found any others that are comparable. If you wash and dry the socks per the instructions they last for quite a while before you feel the compression is not as strong. I would recommend these socks highly to anyone who works on their feet for their comfort, support and longevity.
Compression socks silver coated sole
Fits well and very comfortable. Wish the neck area on top of socks have better gradual transition so as not to leave a indent. Price is a bit high.
silver soled antimicrobial compression socks - white
I have been wearing this style of sock for several years now and find them to be an excellent value in price, durability and function.
I have been wearing these sock for several years. I find the fit and pressure just right for my application,