Size Chart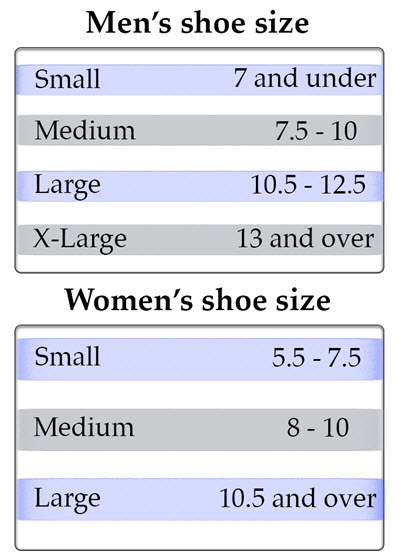 Mojo Compression Socks for Performance & Recovery -- Firm Support (20-30mmHg)
Warrior power compression socks are specifically engineered to match the specific contours of each foot. This style is our thinnest and tightest material. They may feel harder to get on and off but they offer the strongest support in 20-30mmHg compression.
This sock features a 20-30mmHg graduated compression. Strongest at the ankle gradually decreasing up the leg. Used by many professional athletes, these are scientifically proven - to maximize power, boost energy, and speed recovery time.
Features:
Medical Grade Graduated compression of 20-30mmHg will boost circulation and delivery of oxygen to your muscles - Tightest at the ankle gradually decreasing up the leg creates a pumping effect

Wear During activity for leg Recovery and to reduce Lactic acid build up - Use after exercise for recovery - similar properties to elevating your legs



Mojo Compression Socks maximize muscle oxygenation and boost energy with unparalleled, scientifically optimized, compression technology for all-day benefits.
These feature 20-30mmHg graduated compression that is strongest at the ankle and gradually diminishes as it goes up the leg - not just providing a Squeezing effect like most other available compression products. The graduated compression helps fight the force of gravity and circulate blood back to the heart and lungs more efficiently. When blood is properly circulated, it provides much-needed oxygen and nutrients to tired muscles that have been, or are being, deprived during a workout
More energy, an improved metabolization of lactic acid, and faster recovery so you can return to training quicker than ever.
Shipping Cost:
Calculated at Checkout
Mojo Warrior Power Compression Socks
This is my second set of these. I wear them (1) because my vascular surgeon recommends I do, and (2) because they make my legs feel better. I've tried other brands, and I think Mojo's give the best result. When these wear out, I'll order more.
I have purchased 3 pair of these compression sox...I have a very swollen leg from past surgeries. Most compression sox are SO ugly. These are sporty and fun. All my friends ask me where I purchased them. They make my bad leg feel like it's being massaged. I wear them with a golf skirt.